Chief of Staff to the President and National Security Advisor (NSA) Sagala Ratnayaka led the Sri Lanka delegation to the 20th IISS Shangri-La Dialogue, Asia's premier Security Summit held in Singapore from 2 – 4 June 2023. The National Security Advisor was accompanied by Chief of Defence Staff General Shavendra Silva and the High Commissioner of Sri Lanka to Singapore Sashikala Premawardhane.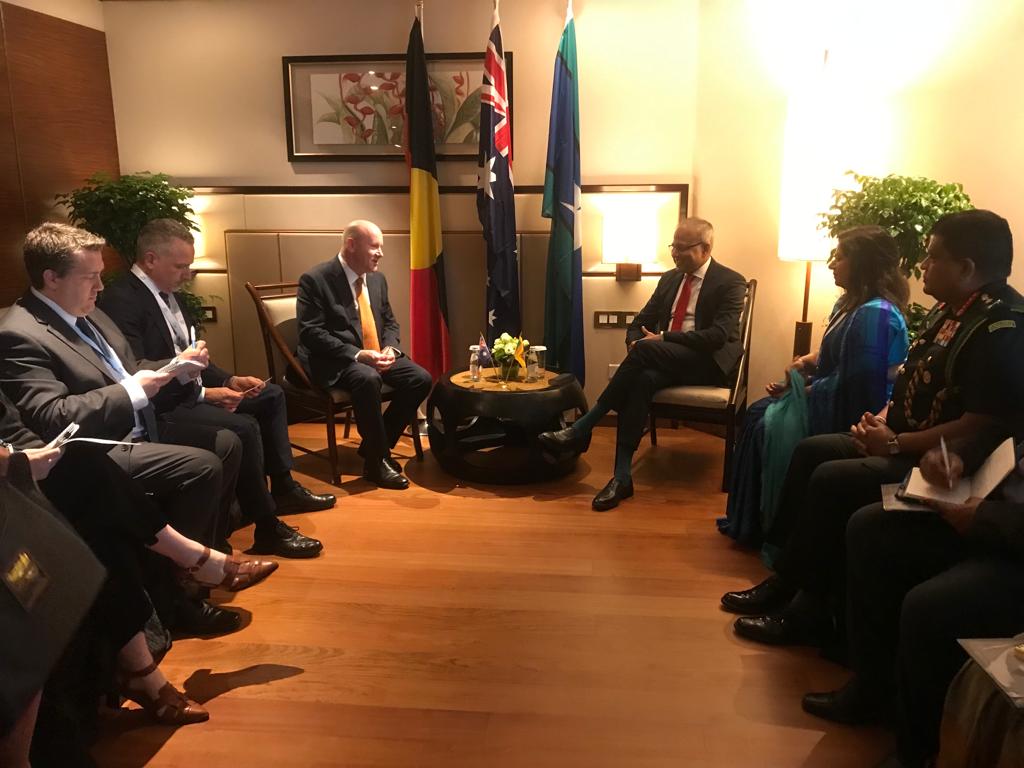 The Summit opened on 02 June with a Keynote address by Australian Prime Minister Anthony Albanese. The plenary sessions covered a wide range of geo-political issues including the building of a stable and balanced Asia Pacific, resolving regional tensions, Asia's evolving maritime security order, US leadership in the Indo-Pacific, and China's new security initiatives, among others.
NSA delivered a statement during the Special Session under the theme 'Defence Cooperation in the Indian Ocean Region' joining panelists representing India, Oman, France and the United States. In his statement he highlighted that it would be imperative to keep big power rivalry and external conflicts out of the Indian Ocean. He referred to Sri Lanka's efforts in the UN which led to the Indian Ocean being declared as a zone of peace and the contributions that have been made to preserve freedom of navigation and overflight. Accordingly, he stressed that it is crucial for all stakeholders in the Indian Ocean region to prioritize a constructive dialogue in the pursuit of shared interest.
During his visit to Singapore, NSA paid a courtesy call on Singapore's Foreign Minister Vivian Balakrishnan and conveyed Sri Lanka's interest in actively elevating the partnership between both countries, giving priority to economic cooperation. NSA also thanked the government of Singapore for the assistance extended to Sri Lanka during a particularly challenging period demonstrating the strength of the relationship that the two countries share. Minister Balakrishnan expressed interest in the economic focus areas discussed during the meeting including food security, renewable energy, and port and logistics sectors and agreed to work closely in this regard.
On the sidelines of the Dialogue, Mr. Ratnayaka met with the Secretary of the Department of Defence of Australia, the Commander of the United States Indo-Pacific Command, the Deputy National Security Advisor of India, the Chairman, Joint Chief of Staff Committee of Pakistan Armed Forces and the Regional Director for Asia and the Pacific of the ICRC. During the meetings, the NSA briefed on the significant efforts being made in Sri Lanka's economic recovery and the progress in achieving reconciliation. He also discussed matters related to defence and security cooperation with respective countries and shared perspectives on collaboration in the region through different fora and established mechanisms.
Mr. Ratnayaka also attended two Ministerial Roundtables hosted by the Minister of Defence of Singapore Dr. Ng Eng Hen for over 29 Ministers and representatives attending the Shangri-La Dialogue.
The official visit of NSA to the Shangri-La Dialogue was coordinated by the High Commission of Sri Lanka to Singapore.
High Commission of Sri Lanka
Singapore
05 June 2023